Are you getting married and looking for something special for your big day? Looking for a personal touch or something unique? Johnny, The Singing Chef, just loves to surprise people with his vocal talents.
Masquerading as the Hotel's Head Chef Johnny moves around the room ensuring that all are happy with their meal and service. He takes to the microphone to address the crowd and thank them on behalf of the venue for their custom. He hopes they are enjoying the meal he has worked so hard to prepare and becomes quite emotional about how happy he is that you and your guests are so happy, so happy in fact that he bursts into song; yes, you've guessed it - "Happy" by Pharrell Williams.

From that point on it's a roller-coaster ride of modern and classic songs with built in audience participation and interaction which not only breaks the ice but also sets the perfect party atmosphere in the room for the rest of the night.
This is just one of the means by which "Here's Johnny" The Singing Chef can get your special night off to the perfect start it deserves. Brides and grooms alike marvel at how instantly Johnny turns the room into a massive party.
Johnny's show is all about getting everyone in the room involved and interacting and chooses songs that are perfect for just such a response, however if you have a favourite a meaningful song that you would like Johnny to perform he will not only learn that for you but will also devise a means by which the audience participation will still be part of that song. This ability to tailor the show to your own unique and individual requirements is what sets "Here's Johnny" apart and makes him such a popular choice for the most special of occasions.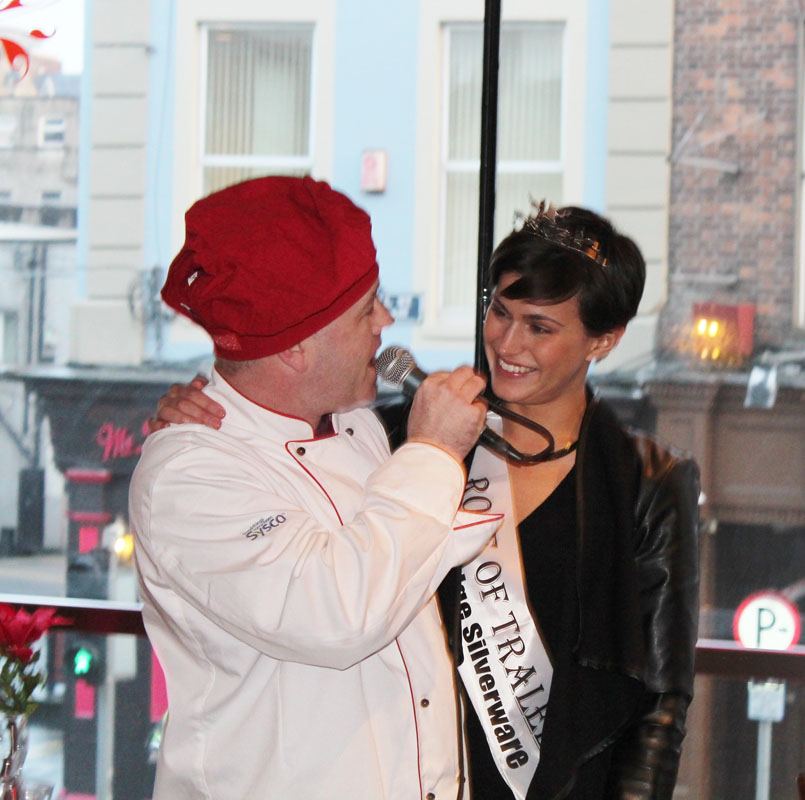 John has performed in The Jameson Distillery, Dublin, for the Ernst and Young Christmas party, Adare Manor, Limerick, for The Pretty in Pink Charity Gala, performed after match entertainment in the Thomond suite at Thomond Park, sang "The Rose of Tralee" at the crowning of the Limerick Rose, appeared on TV3's Ireland AM and serenaded Maria Walsh, the 2014 International Rose of Tralee on her visit to Limerick.